Guidance of exhibition
Event Introduction
FBC Ho Chi Minh 2019 (Factory Network Business Expo 2019) is a special type of business matching meeting event for manufacturing companies and related companies to display their products or business needs in order to find new suppliers, customers or partners that will help expand their businesses. The event has also been held in Bangkok under the name "Mfair" from 2014 onward. FBC Hanoi has been held from 2017 two years in a row . Due to many requests from our clients, we have decided to hold the event in Ho Chi Minh this year.
[Feature]
1. High accuracy match making
Organizer will provide business meeting time schedule to exhibitors based on exhibitors and visitors demands before event.
2. Business meeting with each ASEAN countries
Exhibitors will be able to have meeting with companies from different countries in ASEAN including Japanese companies in Vietnam, local Vietnamese companies, Japanese companies in Thailand and so on. Furthermore, companies from China, Hong Kong, Taiwan and other countries are also expected to participate.
Exhibitor Profile
Manufacturing companies
Manufacturers who wish to procure parts or expand market in Vietnam.
・Processing products by themselves
・Mainly B to B business
Steel product, Automotive, Rail way, Shipbuilding product, General, Electric machine appliance, Information & communication equipment, Electronic parts, Chemical productsPlastic, Rubber products, Ceramics, OEM, Subcontractor etc…
Service Provider
Non-manufacturing companies that are providing services to manufacturing companies
Trading (Parts / Product processing), IT (Software), Recruiting, Logistic, Industrial estate
Exhibiting Area
The event area is divided into Manufacturer Area (A) and Service Provider Area (B).
Please choose the area you would like to exhibit in the application form.
For booth location, locations closer to the main entrance will be given to exhibitors who apply early.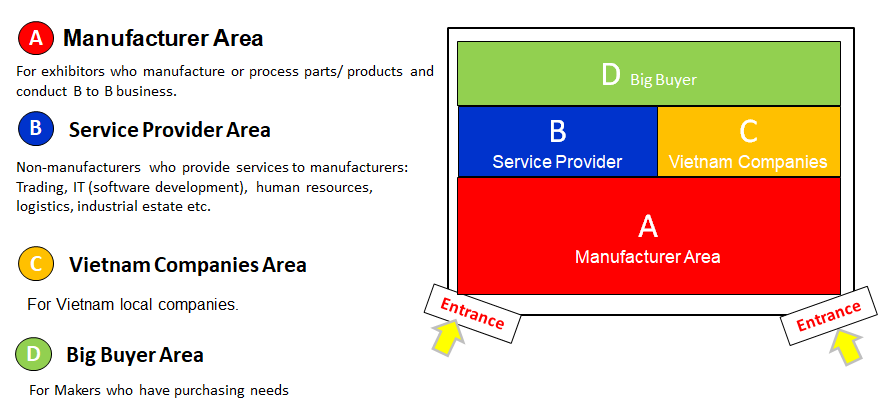 Booth Package
【Booth Package】 Booth Size: 6 ㎡ (W 3.0m × D 2.0m)
Normal Exhibition Fee JPY 240,000 (tax included)
The picture is an image for advertisement only. There may be slight changes in details.
Booths are provided with facilities ①~⑥ as stated above.

Further details such as table size will be announced in exhibitor manual.
Please prepare other promotional materials (such as posters) by yourself.
Promotion for Exhibitors
Publishing information on FBC website / FBC Guidebook
■Publishing information on FBC website

The website is in both Japanese and English.
The information in English can be viewed by Vietnamese local companies and other foreign companies. Therefore, all exhibitors are advised to register information in both languages.
---
■Publishing information on FBC Guidebook.
Number of Publications: 4,000
The information in this special issued will be viewed by many interested buyers.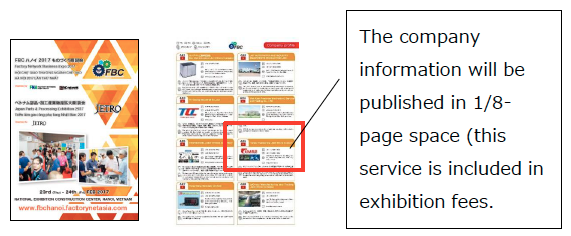 Part of company information registered on the website will be used for guidebook publication.
Business Matching Details
Matching will be done between exhibitors & exhibitors and exhibitors & visitors before the event.
Organizer will distribute each exhibitors business matching meeting schedule before event.
※1. For exhibitor – exhibitor meetings, the meeting schedule will be set based on each exhibitors online matching request
※2.
For exhibitor – visitor meetings, the organizer will arrange the schedule based on exhibitors' procurement needs
※3. Business meeting during the 2-day event will be conducted based on matching schedule
※4. 30 minutes per one meeting with 15-minute break

Exhibition Fees
Early Bird Discount:
Standard Price
Early Bird Discount
Booth Package
JPY (tax included)
240,000
225,000
VND (tax included)
50,880,000
47,700,000
- Local taxes are included in this price.
■In case of payment in Japanese Yen
: the invoice will be issued by NC Network Japan
As the service will incur in Vietnam, Japanese consumption tax will not be charged.
■In case of payment in VND
: the invoice will be issued by NC Network Vietnam
After completing the contract in Vietnam, Grobal Expo will issue the invoice. The red invoice will be issued after event.
■In case of payment in THB
: the invoice will be issued by FNA Thailand
※The rate applied will be Mitsubishi UFJ's TTB rate of the last working date of the month before the invoice date.

Exhibition Fee × VAT 7%× TTB Rate=Exhibition Fee in THB (Rounded up, using 10 THB as unit)

In case the rate is 3.06 JPY/THB and the package option is 240,000 JPY
240,000JPY×1.07÷3.06=83,922THB (Rounded up, using 10 THB as unit) The exhibition fee in THB is 83,900 THB

- All remittance charges will be on exhibitors (Please select OUR and write "Pay in full" in remark on remittance slip)
Option
Introduction for Option
■Rental Item etc.
If exhibitor would like to use more than what is provided in the package, it is possible to rent additional furniture, lighting devices, video player, shipping and interpreting service via charged option plan. Details regarding how to order will be included in "
Exhibitor Manual
" which will be distributed around the beginning of July.
■Web Advertising
Advertising on FBC Website
Service
Spec
JPY
(Tax included)
VND
(Tax included)
Business item
Promotion
You can post your business item on top page.
Procurement and selling item will increase.
(Issued period is from 1st July to end of event)
30,000
6,360,000
AD Banner
You can post advertisement banner on side of website.
(Issued period is from 1st July to end of event)
30,000
6,360,000
E-mail
Promotion by using NCNV E-news letter(JP: 1,000, VN: 3,000 address)
(2 times)
30,000
6,360,000
Full Package
Business item Promotion+ AD Banner +E-mail
80,000
16,960,000
■Magazine Advertising
Advertisement on Official Guidebook
Size
JPY
(Tax included)
VND
(Tax included)
Back Cover
184×257mm
265,000
56,180,000
Inside front cover
184×257mm
240,000
50,880,000
Opposite inside front cover /
Inside back cover
184×257mm
210,000
44,520,000
Opposite inside back cover
184×257mm
185,000
39,220,000
1P
184×257mm
158,000
33,496,00
1/2P
184×126mm
95,000
20,140,000
1/4P
184×60mm
53,000
11,236,000
■Banner AD at Venue
Banner Advertising in Venue
Type
Size
JPY
(Tax included)
VND
(Tax included)
Banner A
(Entrance fence landscape)
W3m×H2m
50,000 JPY /sheet
10,600,000 VND /sheet
Banner B
(Entrance fence portrait)
W0.6m×H4m
50,000 JPY /sheet
10,600,000 VND /sheet
Banner C
(Inside event venue)
W3m×H5m
100,000 JPY /sheet
21,200,000VND /sheet
Banner D
(Entrance colum)
W10m×H1.2m
100,000 JPY /colum
21,200,000VND /colum
Others
Accommodation
Exhibitors are required to arrange hotels/places to stay by themselves.
Inquiry & Application
■ Deadline
The deadline is 19 July 2019 (Fri).
■ Application Method
Please fill in the excel form "FBC Exhibitor Application Form" and sign/stamp with company seal
before sending to:
vn_fbc@factorynetasia.com
※Also accept PDF file
※Please also send the excel version along with PDF
■ Address for Sending Application
NC NETWORK VIETNAM JSC
Tel:
+84-24-3719-2826
E-mail:
vn_fbc@factorynetasia.com